Cardiovascular disease (CVD) is a general term for disorders affecting the heart and blood vessels. It accounts for approximately one third of all deaths globally and is a major contributing factor toward rising healthcare costs. In vitro diagnostic (IVD) assays for detecting cardiac markers are essential tools to help treat or prevent CVD. By enabling clinicians to monitor biomolecules that are released into the blood when the heart is damaged or stressed, IVD assays support diagnosis of conditions including coronary heart disease, cerebrovascular disease, and deep vein thrombosis to guide therapeutic intervention. IVD assay performance and utility hinges on high quality reagents that are available in unlimited supply.
Supporting IVD assay development for cardiac markers
IVD assays can be configured in various formats, with immunoturbidimetry (IT), chemiluminescence immunoassay (CLIA), lateral flow (LF), and fluorescence immunoassay (FIA) being among the most widely used. In many cases, matched antibody pairs are employed for analyte capture and detection since using two antibodies that each recognize a different epitope increases confidence in results.
After marker selection, identifying suitable antibodies – especially matched antibody pairs – can be one of the most time-consuming steps of IVD assay development. For reliable results, antibodies should come with comprehensive validation data showing them to work in the chosen application. Additionally, antibodies should be sourced from a trusted vendor offering the flexibility for custom formulation where applicable and able to guarantee long-term supply.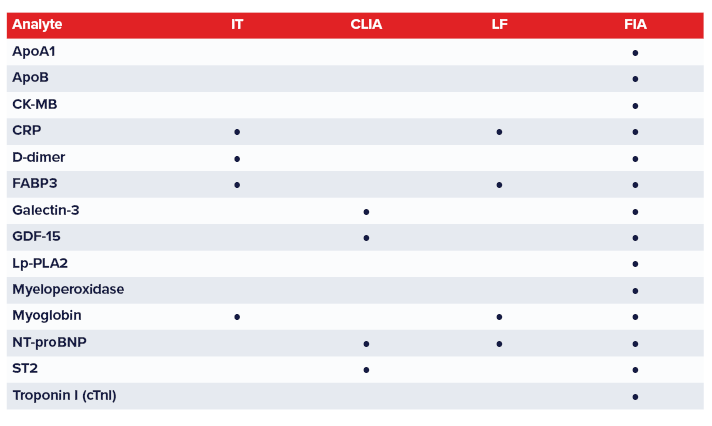 Medix Biochemica's CVD marker antibodies are validated for applications including immunoturbidimetry (IT),
chemiluminescence immunoassay (CLIA), lateral flow (LF), and fluorescence immunoassay (FIA).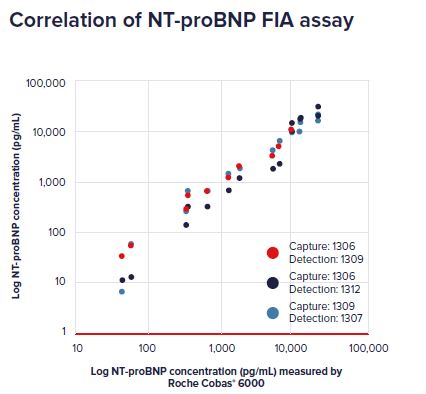 Correlation NT-proBNP concentrations in clinical samples between reference IVD method (Roche Cobas® 6000) and a fluoroimmunoassay (FIA)
using NT-proBNP antibodies 1306 or 1309 for capture, and 1307, 1309 or 1312 for detection.
NT-proBNP antibodies demonstrate excellent assay sensitivity correlating well with the reference IVD assay.
Partnering with an experienced reagent manufacturer with a proven track record in batch-to-batch consistency, delivery accuracy, and scalability is a tried and trusted approach to streamline IVD development. Importantly, a vendor focused on innovation promises to bring your IVD assay to market faster by providing the right raw materials, building quality into validation testing, and streamlining the supply chain, helping ensure urgently-needed tests reach the patients who require them most.
Medix Biochemica Group is a global, market-leading supplier to the IVD industry. We develop, manufacture, and market critical raw materials including antibodies, antigens, and biologicals, many of which are used as components of IVD tests for cardiac marker detection.
Discover all our cardiovascular markers:
To discuss your needs with one of our team, please get in touch today or email us at sales@medixbiochemica.com
High-quality bioreagents for cardiac assays
Medix Biochemica Group offers antibodies and antigens for markers commonly utilized to diagnose CVDs and monitor patients' treatment.
When developing your blood-based cardiac immunoassays, you can count on Medix Biochemica reagents for high quality, consistency and supply continuity, enabling you to provide reliable diagnostics solutions to benefit patients with cardiovascular diseases.
Resources
Medix Biochemica is dedicated to providing you with the resources you need to accelerate the development of commercially ready products that impact patient care.
Find our resources:
Product catalogues
Technical notes
Application notes
Scientific posters
Certificates
Videos
And much more from our Resources Hub:
What are some commonly used cardiac markers?
A broad range of cardiac markers is used to diagnose CVD and direct appropriate treatment. These include: